Anti Snap or Ultion Lock Upgrades
Have you been thinking about upgrading to anti snap or Ultion locks? They're a great way to instantly improve the security at your Leamington Spa home or business.
Standard locks may look strong, but some aren't as robust as they seem. If someone tries to break in they can be easy to break, particularly by snapping.
Locksmith Leamington Spa can help you if you're thinking about fitting Ultion or ant snap locks. If you are considering it, contact us for a free, no obligation quote.
About Anti Snap Locks?
Many burglars get into a property by snapping the locks. This is much as it sounds, and involves breaking the cylinder of the lock – which is the weakest part – which reduces its effectiveness.
Anti snap locks on the other hand are designed to break in a specific place if an attempt is made to force them. This means that the lock retains its security. There are also locks which also have extra features such as grip defenders and reinforced bars.
Contact us in an emergency on 

01926 800919
or request a call back within 20 minutes 
About Ultion Locks?
Ultion locks are a type of lock designed to withstand a range of break-in methods including lock picking, lock bumping, lock drilling and lock snapping. Ultion locks have a highly secure mechanism, which makes them among the most secure locks you'll find.
A front section is designed to keep the lock secure in the event of snapping, and a strengthened core means that it is stronger than most other locks out there. A 'lockdown mode' comes into play if someone does attempt to force it, and this releases additional security. All this gives you a super secure lock
Improved Security with Lock Upgrades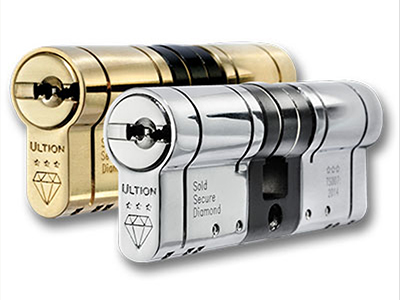 When you start to think about upgrading your business or home security, take a look at how Ultion and anti snap locks could help. Using a professional locksmith such as Locksmith Leamington Spa means that you can have these effective locks fitted quickly and easily, and still get greatly enhanced security.
If you're thinking of upgrading the security on your home or business then anti snap or Ultion locks could be the answer for you. Although they significantly improve security, they're relatively quick and easy to fit. Particularly when you use a professional like Locksmith Leamington Spa.
Before you consider a complete overhaul of all your security measures, contact Locksmith Leamington Spa and discover whether anti snap or Ultion locks could be a more straightforward option. We don't charge to give you a quote, so there's nothing to lose.
Trustworthy Local Locksmiths in Leamington Spa
Asking Locksmith Leamington Spa to fit your new anti snap or Ultion locks gives you the benefit of our years of experience, as well as the knowledge that all the locks we fit comply to British Standards.
You'll also receive at least 6 months guarantee on any work that we carry out
Contact Us On

01926 800919
Locksmith Leamington Spa
Our location
Free Call Out, Quotes & Estimates